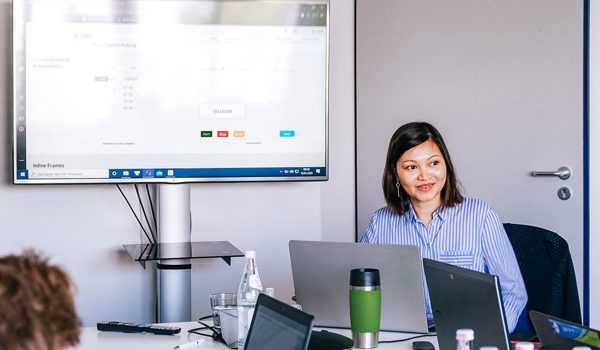 Quick and easy creation of interactive wire frames and prototypes thanks to Axure: one of our employees held a half-day workshop to present the Axure software tool to colleagues who wanted to know more. The participants included employees from both EDAG aeromotive and other parts of the EDAG Group.
In the course of the workshop, the EDAG aeromotive UX designer presented the Axure tool to her colleagues in its entirety: in particular the advantages of the software in their work with the customer. Using Axure, participants are now able to create interactive and responsive wire frames without programming. The main advantages for the customer are fast implementation and the possibility of carrying out usability tests using a click-through website. The large selection of UI elements, stencils and widgets means that customer requirements can quickly be adapted. As a result, the effectiveness of all project considerations undertaken with the customer increases.
Managing Director Ralf Rudolf is pleased to note his employee's commitment, and sees three advantages in this in-house workshop: "On-the-job training for our employees is an important component of the corporate philosophy of EDAG aeromotive. The fact that the workshop was held by an employee from our own ranks makes me even happier." Rudolf continues: "Not just our own employees, but colleagues from the entire EDAG Group will also benefit from the workshop. In this way, we promote our integrity as an integral part of the world's largest supplier of engineering services". However, Rudolf sees the greatest advantage in the fact that the company can present its customers with solution-oriented concepts even faster and tailored more exactly to their needs. ""All in all, the event was a complete success," sums up Managing Director Rudolf with satisfaction.