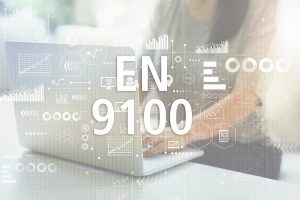 After an intensive period of preparation, and as part of the company's continuous improvement and development programme, EDAG aeromotive GmbH, an EDAG Group subsidiary, was successfully audited and certified in accordance with EN 9100 (quality management system for organisations in the aerospace and defence industry) by TÜV Süd in February 2021.
Among other things, the company supplies Airbus Defence & Space with innovative software developments to improve computer-aided mission planning. Quality management in the aerospace industry aims to guarantee the safety, reliability and quality of products. Manufacturers need to be aware of possible safety risks of their products, and reduce these to aminimum. "Only a functioning quality management system enables aerospace organisations to ensure quality along the entire supply chain,"explains Ralf Rudolf, Managing Director of EDAG aeromotive GmbH. "This successful certification demonstrates the fact that we fulfil the high quality management standards required in the industry for our customers. The certification represents a further milestone in the successful expansion of our business model as an engineering expert in the aerospace industry."
EDAG aeromotive GmbH specialises in optimising the structure and performance of existing frameworks. When developing innovative new tools for test automation or enhancing existing ones, the company networks currently available software and provides the relevant interfaces. In addition to tooling engineering, Ralf Rudolf's highly specialised 45-strong team also offers services in the fields of development (hardware prototype development), validation and manufacturing (construction and integration of system components in flight simulators, rapid prototyping for model and special solutions, the production and commissioning of customer-specific test and power distribution systems, and the construction of ground service equipment) for aerospace and defence technology.